Made from a selection of our finest Whiskies and Malts. Patiently aged in American oak barrels that previously contained bourbon and in Spanish oak barrels that have previously housed sherry.
DISTILLED IN COPPER STILLS, AGED WITH PATIENCE AND CRAFTSMANSHIP.
Distillation is developed using traditional copper stills dating back to the beginning of the 19th century to achieve the best distillation possible: the nose, distillation pace control and experience make this a true art form.
The first aging process takes place using our oak barrels that previously contained bourbon whiskey. The second aging process uses Spanish oak barrels that once held Pedro Ximenez sherry (Jerez) for less than 10 years. Our products are aged following the same hundred-year-old procedure to obtain the perfect scent, flavour and body.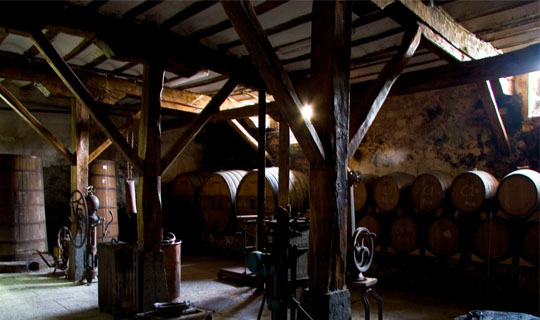 23K GOLD: A DISTINGUISHED, STYLISH INGREDIENT
The unique ingredient of 23k gold, with German TÜV Rheinland certification, portrays the beauty and history of our products, the essence of who we are; it is an expression of patience, wealth, quality and master craftsmanship. Its slow, deliberate, bright movement makes it a special product that delivers style and distinction.
EXCLUSIVE WITH UNIQUE CHARACTER
WHISKY 1818 PREMIUM LIQUEUR GOLD 23K
The best raw material – barley – has been malted with hot smoke until it is capable of granting a special smoked flavour to this whisky with Scottish roots, which is patiently aged for seven years in our best oak barrels.
A unique product that represents the essence of who we are; an expression of patience, richness, quality and master craftsmanship, with the experience of the know-how of these 200 years.
SMOOTH, FRUITY AND FRAGRANT.
WHISKY LIMITED EDITION 498 BOTTLES 100% MALT 12 YEARS
The fruit of our commitment to perfection; an exclusive limited edition of 498 bottles.
With a light amber colour and vibrant glints, on the nose it offers a smooth, freshly smoked scent imbued with hints of dry, sweet, toasted wood and notes of grains, vanilla, honey and oranges. On the palate it is extremely silky, with citric nuances and many hints of corn and rye. Its finish is elegant and lingering.
EXCLUSIVE WITH UNIQUE CHARACTER
WHISKY 1818 PREMIUM LIQUEUR 12 YEARS 100% MALT GOLD 23K
Made from the rarest and most exceptional 12 year malts. Aged in casks that have been carefully smoked.
On the nose aromas of oak and toasted nuts with hints of sherry, oranges and dark chocolate, accompanied by a touch of pepper. On the palate intense but smooth flavour with a subtle smokiness, full of character and perfectly balanced.
A unique experience to be enjoyed and gift
A special whisky to be gifted and shared; a luxury, original, unbeatable present anyone would love. This is one of the world's most distinctive and exclusive bottles, making it the perfect gift for fans of premium, signature distillates.